BIBLICALLY INTEGRATED CURRICULUM
Pearl Harbor Christian Academy uses a combination of the A Beka Book, Prentice Hall, Purposeful Design, and Six Traits for Writing curriculum for Bible, Reading, Language, Phonics, Spelling, Poetry, Writing, Creative Writing, Penmanship, Arithmetic, Science, Health, History, and Geography. We also use Arttango, SPARK, and Techno Kids for Art, Physical Education and Computer Class. Students also take music classes and there are various electives at the Middle School level.
The curriculum selected provides for a very comprehensive and challenging program. Students will be presented with a high standard of academic learning with lessons integrated with biblical principles as the materials are taught on the supposition that all truth comes from God.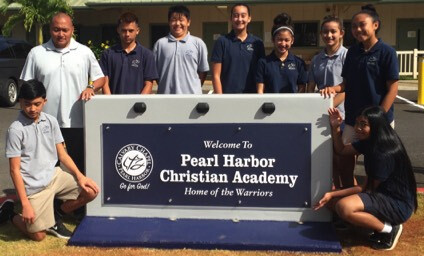 ESLR's (Expected School-wide Learning Results)
Students who graduate from PHCA will become:
1. COMMITTED CHRISTIANS
A. Have accepted or has been challenged to accept Christ as their Lord and Savior.
B. Have good works as evidence of their faith
C. Actively participate in regular fellowship, worship, and/or involvement in ministry and study of God's Word
D. Incorporate Biblical worldview into how they live their daily lives
2. CRITICAL THINKERS
A. Able to relate new information to prior knowledge or experiences
B. Can apply mathematical skills to daily lives
C. Are able to independently problem solve
D. Incorporate Bible knowledge in daily life skills and decisions
3. EFFECTIVE COMMUNICATORS
A. Are able to express themselves and resolve issues in relationships
B. Able to convey thoughts in a clear manner, verbally or written
C. Able to be expressive in journal writing
D. Able to orally recite and communicate the meaning of Bible verses
4. CONTRIBUTORS TO/LEADERS OF COMMUNITY
A. Are involved in helping others (Mark 10:45, Philippians 2:7)
B. Are respectful and responsible citizens
C. Lead by example; willing to listen to other's ideas; work with others
5. SELF-DIRECTED LEARNERS
A. Are responsible and active in the learning process
B. Are able to set and pursue future goals
C. Are able to assess present progress for success in future academic pursuits
D. Are motivated to complete tasks to the best of their ability